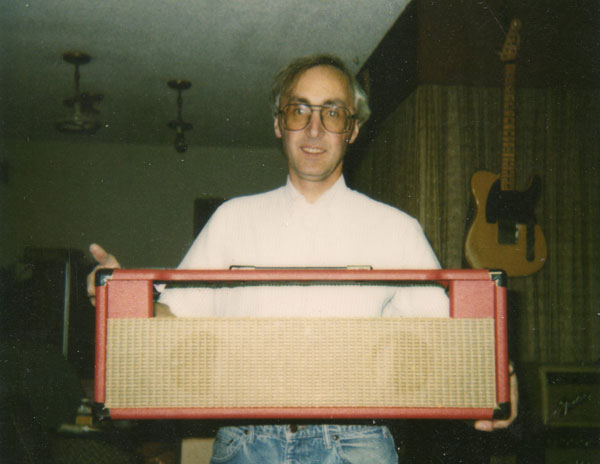 Our Story
The Birth of The Rocket 90
In 1993
I had been in the music industry for 15 years, and was looking for a creative outlet using my engineering background. I had been restoring and modifying old tube amplifiers of every description, and thought that building my own amp would be a good way to "scratch" my creative "itch". I began discussing my idea with my next door neighbor, Trevor Wilkinson. Trevor had already established a name for himself in the biz as a master designer of guitars and guitar hardware. He was very interested in the idea, and we decided to work on something together.
We had acquired an old 100-watt chassis, and I started by gutting the amp and then building it back up with the voicing and features we were after. The goals were 1) to create a crisp, high-headroom amp to rival the best of the "clean" amps on the market, 2) to give it smooth, lush overdrive that can be used at any volume level; not just at full volume, and 3) create an amp that performs equally well with single-coil pickups and humbuckers.
After months of designing, building and listening we had an amp that we felt hit all of the goals, and the Rocket 90 was born. Trevor then worked on a cabinet design, and we had our prototype cabs built by the legendary Sam Hutton; a very creative, forward-thinking cabinet builder who learned his trade at Fender from the early '60's through the mid '70's. Trevor then designed our signature Rocket logo, and we were ready to go. Electroplex Amplifiers was born.
We started producing the Rocket 90 in two configurations: a 2×12 combo with a pair of Celestion G12T-75's, and a head with a 4×12 cab loaded with either G12T-75's or with Vintage 30's. Sales in the States were slow at first, so we signed on with an energetic distributor in Japan. We were a "global" enterprise, however still quite small. But the combination of direct sales, sales in Japan and several US retail dealers kept us going.
One "victory" we enjoyed at this time occurred in 1994 when we loaned a 2×12 combo to the Rolling Stones for use on their "Voodoo Lounge" album. We didn't get a mention in the album credits, but they enjoyed having the Rocket for the session, and we had some bragging rights.
By mid-1995 Trevor had decided to move his business and family back to the UK. He subsequently became very successful in the guitar hardware business and, more recently, in crafting a premium line of ground-breaking guitars. So I had a decision of my own to make: do I pull the plug on Electroplex, or do I press on? In the end I figured that I had a very viable product on my hands, and all of these parts laying around. But most of all I still had a burning desire to create an amplifier line that I could be proud of, and a curiosity of finding out just how far I could take this thing.