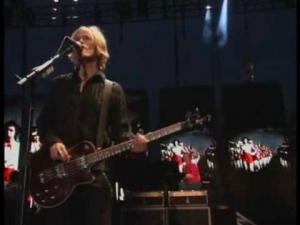 American-made Rockets Hit Red Square. Producer, composer and master guitarist Brian Ray had been an Electroplex customer for nearly four years when, in 2002, he got the call of a lifetime: to audition for a spot in Paul McCartney's new touring band. Prior to getting the call Brian enjoyed a colorful and storied career, spending 14 years as Etta James' music director and guitarist, plus touring and collaborating with numerous stars of the music industry including Peter Frampton, Rita Coolidge and Johnny Holiday. Still, when Brian got the call from Paul's people, it seemed almost unreal.
Brian passed the audition and starting touring with Paul in 2002. He took two Rocket 50 heads, each powering a 4×12 cab with Vintage 30's. Brian would play through one at a time, and have the second Rocket ready as a backup. Happily, through several years of touring and two world tours, the backup Rocket was never needed. The Rockets, in blond tolex and burgundy grille, would be lined up side-by-side in back of Brian; stage right, and right in front of Paul's grand piano.
Brian took his Rockets everywhere, to almost every major venue in the free world, and to very high-profile events including the Queen's 50th Anniversary Bash, hosted by none other than Prince Charles. The Bash was a "who's who" of British rock and pop icons, and Brian relished every second of it! Side note: I gave Brian's Rockets a check up after that gig, and literally pulled out some of the confetti that was unleashed at the climax of the event.
But there was one subsequent gig that topped them all: Paul's historic concert in Red Square, Moscow. It was Paul's first concert in Russia, before an enthusiastic crowd of over 100,000 fans, all of whom were quite cognoscente of the historic and socio-political impact of the event. The full significance of
the concert is brilliantly told in the documentary/concert film "Paul McCartney In Red Square", which also features most of the concert that evening. Paul and the band did a masterful job taking the crowd through all the hits that were banned during the Cold War, yet found an enthusiastic audience in the cultural underground of the time.
For many of those in my generation, who lived most of our lives during the Cold War, the concert represented a musical "turning of the page" wherein Muscovites could openly express their love of a music that had become such a part of the cultures of the free world; our world. And for me, personally, it was a moment to be proud of and thankful to a customer and friend who found his sound with his Rockets, and relied on them at the most critical times of his professional career. Thanks, Brian!
So, with tongue in cheek, I offer a little symbolic Cold War irony with the concept of "American Rockets hitting Red Square".